TRUMP:  The U.N. is 'just a club for people to talk and 




have a good time'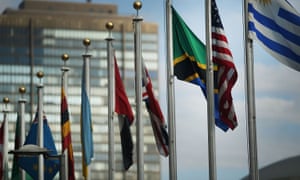 The U.N. Security Council is further besmirching itself today.   Summoned by Trump it is convening at the White House with Trump acting as Chairman and host.
Not only should the American President have been told "Glad to meet with you if you like, come lunch with us at U.N. Headquarters."   But this POTUS should be read the riot act rather than allowed to preside on his own terms in his own power trappings.  This is a U.S. President who just recently defied the U.N. and bombed Syria, is threatening on his own to start a possible nuclear war by bombing North Korea, has said he is going to greatly de-fund the U.N., and has threatened to withdraw altogether from the Human Rights Council, UNESCO, and other U.N. bodies.
Since the Americans hold the Presidency of the Security Council this month, it could be that Ambassador Nikki Haley herself ordered this White House event.  If so one of the things the other members of the Security Council should say today when they finish up at the White House is that President Haley has now been asked to schedule meetings of the Security Council in Beijing, Moscow, Paris, and London…in all of the capitals of the Permanent Members.   And when she refuses she should be outed for abusing her authority as it's long past time for the U.N. to stop being used and manipulated by the U.S.