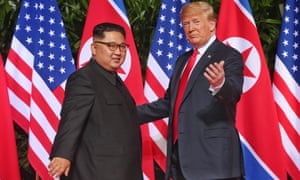 Remember Sept 1993 with 3000+ in attendance on the White House lawn with Arafat/Rabin/Clinton all shaking hands and proclaiming a brave new world in the Middle East?  Just look at the situation between Israel and Palestine, and in fact throughout the Middle East, since and now!
Take that into consideration when thinking about Donald Trump's super international latest TV "reality show" today and realize that the Charade/Deception aspect is much more the likely outcome down the road than what Trump is uttering about what has happened today.
I did the live commentary for CTV throughout the 1993 White House super spectacular ceremony.   I was probably the only major national network TV commentator to predict on that jubilation day live that the deal was destined to fail.
https://vimeo.com/channels/mabctv
In the weeks and months ahead expect Kim and DPRK to cash in.   There will be new economic and political arrangements with China, South Korea, Japan, and beyond.   Such visitors as Assad from Syria will probably come to visit and Kim may well go to Russia and beyond.  The threat of Trump/Bolton/Pompeo attack has been neutralized, the regime/country has been legitimized, and the stage is now set for Kim to play out a new role before the world's cameras even surpassing Trump for showmanship.
Trump needed some kind of TV "success" for his own ego and chaotic/dangerous political situation.   He thinks he manipulated Kim into today's agreement signing and incessant handshakes.   The reality is Kim, with the considerable help of Moon and Xi, manipulated Trump.  And once again, remember the aftermath to the far grander Sept 1993 White House signing extravaganza.