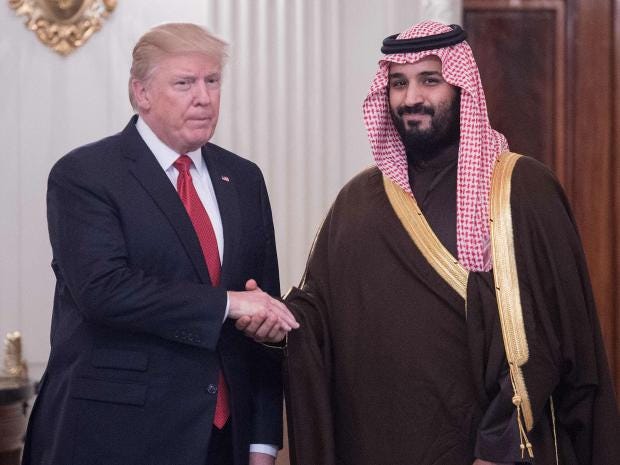 CBS and 60 MINUTES should be ASHAMED for the extremely propagandistic profile they did last night with Saudi strong-man Mohamed Bin Salman, the man who if not assassinated could rule Saudi Arabia (making it Salman Arabia) for much of this century.
The Saudis are spending huge sums on Public Relations.   CBS did it's part just as MBS begins a never-before two-week jaunt throughout the U.S.   There is no doubt a major back-story to how this fluff piece came about and how much money has changed hands between those associated with and owning CBS and what backroom deals were made.  The Salmans couldn't have asked for better propaganda; and this appeared to be a journalistic story from one of the premier American news programs.
There was a thin attempt to briefly raise issues involving human rights, Yemen, and the Crown Prince's own extreme financial corruption — very thin.   But there was NOT A WORD about:
The unprecedented billions — more than 100 in fact — the Saudis are pumping into American war-arms manufacturers and the tremendous help they are providing to Trump.
The Saudi role in igniting and perpetuating the horrible Syrian Civil War.
The dastardly Saudi role in bringing about the military coup in Egypt and financing that junta police state.
How the Saudis have aided the royal Bahrainis sending their own troops and special forces into that land.
Israel with which MBS is now in alliance plotting with the Zionists and Neocons to control the region at any cost and to crush Iran one way or another.
Why and how the Saudis have threatened to take over Qatar by coup or force.
And why and how MBS has house arrested the former Crown Prince as well as his own mother.
And what should be of great importance to Americans, there was not a word about the extreme and still-expanding role the CIA, along with the Pentagon, in keeping the Saudis, as well as the Hashemites, in power, using all kinds of cut-outs and long on-the-take personalities and institutions.
The Middle East is today far more bloody and unstable than ever before in history; and headed toward a regional war far more devastating than any before.   MBS, now heading what he is transforming into Salman Arabia, has come to America for the next two weeks.  At least the "independent" media and academics should be focusing on all the things mentioned above rather than what the panoply of Saudi p.r. hacks are shoveling.