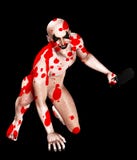 There is need for immediate international intervention. The blame that this is not happening is on Trump/Kushner/Pompeo.   It's another egregious case of "obstructing justice" and "collusion", this time for and conspiring with MBS.
Where is the 15-member hit squad, including the senior autopsy expert who brought his own bone saw and told everyone to listen to music as he cut up Khashoggi still alive?!  We already know one of the hit squad is dead in a "suspicious" Riyadh car accident.
Where are the others?   Why did Pompeo not demand to have U.S. Embassy and FBI persons he could have brought with him meet with any of them?  Why did Pompeo not get the King and MBS to assure him that nothing would happen to them?   Why in fact did Pompeo not demand an immediate international investigation into the killing of this prominent journalist and American resident.   Why is Kushner in hiding while Trump and Pompeo are actually acting as the mouthpiece for the Saudis and engaging in this coverup conspiracy?
And…why did the Turks allow the Saudi Consul General to run to Riyadh two days ago  after he may have personally witnessed the Khashoggi torture and macabre dismemberment?   In such a case Diplomatic Immunity should have at least been suspended and he should not have been allowed to depart just hours before additional searches of his Consulate and Residence were to begin.   Did Pompeo on the scene play any role in this?